How to Apply to Offers?

If you are willing to monetize your web, mobile web or in-app inventory with performance-based offers, you are at the correct place. Become a publisher of ReklamStore to maximize your profit by taking advantage of the top-earning campaigns.
How to Apply to Offers?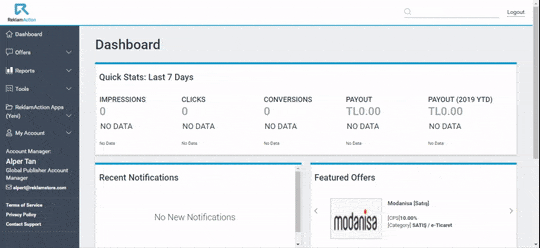 A video to demonstrate how to apply to offers on ReklamStore Affiliate (previously ReklamAction) panel.
All you have to have before applying to offers is an affiliate account.
Follow the steps below to apply to an offer.
Login to your ReklamStore Affiliate account.
Click Offers and then All Offers from the menu.
Scroll through the offers or filter down the results to find a suitable offer for your traffic.
From the offer page, click Request Approval.
Your account manager will review your application and approve your request.
You don't need to wait for approval for some of the campaigns. Just click the first item under Offers menu and you can start running your selected campaign right away.
Your account manager can be help you with choosing an offer suitable for your traffic. They can analyze your inventory and suggest your the campaigns which will convert better. Contact your account manager for further information.
---
---