Brand Safety & Fraud Protection

Do you prioritize your brand safety over everything? Your brand's reputation will never be tarnished by the accidental ad placements, thanks to ReklamStore's Brand Safety feature. With brand protection feature, you have the power to choose whitelists of web pages which are pre-approved & reputable publishing channels, decide the quality of media, prevent your campaigns from any bots, proxies, suspicious IPs, spiders… In short, brand protection feature protects you from fraud attempts.
We made partnerships with well known ad fraud detecting companies, Forensiq*, Fraudlogix and Integral Ad Science. Their fraud detecting technologies are integrated into our platform and at your service in addition to our filters.

When you use Brand Safety options on your campaign, you will bid only on inventory that has been confirmed to contain safe content related to the selected category.

Our objective is to ensure brand-safe, fraud-free advertising for our clients. Because of that, we are offering our Brand Safety feature for free to our partners. While creating a campaign, as default, some of the options are pre-selected to protect your brand from known bots, spiders etc.

Along with our premium inventory and our whitelist & blacklist options, thanks to this game changer quality-control tool, ReklamStore DSP is one of the safest options in the programmatic industry for media buying purposes.
* Forensiq's fraud protection features are disabled for a while. In order to activate, please contact your account manager.

Setting Up Brand Safety
1) Start creating your campaign
Complete the general section as described in this article.
2) Select brand safety options
You can find the brand safety options under targeting options tab. By default, some of the categories which have malicious content listed below are excluded from your campaigns.
Proxies & anonymizers
Spiders
Known malicious bots
Anonymizing VPN services
Public proxies
Web proxies
TOR exit nodes
Other suspicious IPs list (FLX compatible)
ReklamStore's Brand Safety feature is free to use but our fraud detecting partners are charging for their services. Price will be included in addition to your CPM cost.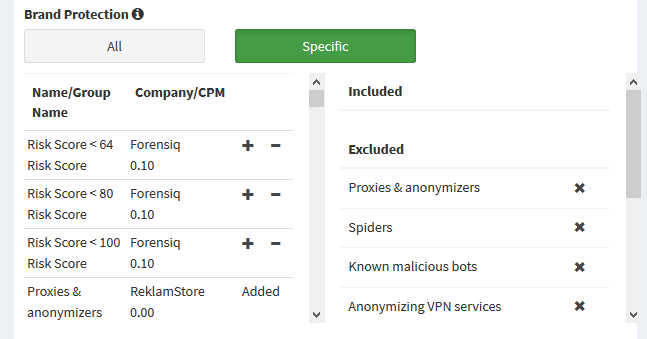 3) Activate the campaign

Click Save and by default, your ads will be shown until you deactivate your campaign.
Brand Safety Options
| | | | | |
| --- | --- | --- | --- | --- |
| Type | Category | Company | Include or Exclude | Pre-Added? |
| Risk Score < 64 | Risk Score | Forensiq | Include | |
| Risk Score < 80 | Risk Score | Forensiq | Include | |
| Risk Score < 100 | Risk Score | Forensiq | Include | |
| Proxies & anonymizers | Fraud Protection | ReklamStore | Exclude | Yes |
| Spiders | Fraud Protection | ReklamStore | Exclude | Yes |
| Known malicious bots | Fraud Protection | ReklamStore | Exclude | Yes |
| Datacenter IPs | Fraud Protection | ReklamStore | Exclude | |
| Anonymizing VPN services | Fraud Protection | ReklamStore | Exclude | Yes |
| Public proxies | Fraud Protection | ReklamStore | Exclude | Yes |
| Web proxies | Fraud Protection | ReklamStore | Exclude | Yes |
| TOR exit nodes | Fraud Protection | ReklamStore | Exclude | Yes |
| Other suspicious IPs list (FLX compatible) | Fraud Protection | ReklamStore | Exclude | Yes |
| Suspicious users (DV compatible) | Fraud Protection | ReklamStore | Exclude | |
| HIGH RISK for Suspicious Activity | Media Quality | Integral Ad Science | Exclude | |
| HIGH or MODERATE RISK for Suspicious Activity | Media Quality | Integral Ad Science | Exclude | |
| 250 - 1000 TRAQ score | Media Quality | Integral Ad Science | Include | |
| 500 - 1000 TRAQ score | Media Quality | Integral Ad Science | Include | |
| 600 - 1000 TRAQ score | Media Quality | Integral Ad Science | Include | |
| 700 - 1000 TRAQ score | Media Quality | Integral Ad Science | Include | |
| 750 - 1000 TRAQ score | Media Quality | Integral Ad Science | Include | |
| 875 - 1000 TRAQ score | Media Quality | Integral Ad Science | Include | |
| 1000 TRAQ score | Media Quality | Integral Ad Science | Include | |
| HIGH RISK for Suspicious Activity for Video | Media Quality | Integral Ad Science | Exclude | |
| HIGH OR MODERATE RISK for Suspicious Activity for Video | Media Quality | Integral Ad Science | Exclude | |
| HIGH RISK for Adult Content | Brand Safety | Integral Ad Science | Exclude | |
| HIGH or MODERATE RISK for Adult Content | Brand Safety | Integral Ad Science | Exclude | |
| HIGH RISK for Alcohol Content | Brand Safety | Integral Ad Science | Exclude | |
| HIGH or MODERATE RISK for Alcohol Content | Brand Safety | Integral Ad Science | Exclude | |
| HIGH RISK for Illegal Download Content | Brand Safety | Integral Ad Science | Exclude | |
| HIGH or MODERATE RISK for Illegal Download Content | Brand Safety | Integral Ad Science | Exclude | |
| HIGH RISK for Drug Content | Brand Safety | Integral Ad Science | Exclude | |
| HIGH or MODERATE RISK for Drug Content | Brand Safety | Integral Ad Science | Exclude | |
| HIGH RISK for Hate Speech Content | Brand Safety | Integral Ad Science | Exclude | |
| HIGH or MODERATE RISK for Hate Speech Content | Brand Safety | Integral Ad Science | Exclude | |
| HIGH RISK for Offensive Language Content | Brand Safety | Integral Ad Science | Exclude | |
| HIGH or MODERATE RISK for Offensive Language Content | Brand Safety | Integral Ad Science | Exclude | |
| HIGH RISK for Violence | Brand Safety | Integral Ad Science | Exclude | |
| HIGH or MODERATE RISK for Violence. | Brand Safety | Integral Ad Science | Exclude | |
| CANNOT RATE | Brand Safety | Integral Ad Science | Exclude | |
| HIGH RISK for Violence for Video | Brand Safety | Integral Ad Science | Exclude | |
| HIGH Risk and High Risk or MODERATE RISK for Violence for Video | Brand Safety | Integral Ad Science | Exclude | |
| HIGH RISK for Adult Content for Video | Brand Safety | Integral Ad Science | Exclude | |
| HIGH or MODERATE RISK for Adult Content for Video | Brand Safety | Integral Ad Science | Exclude | |
| HIGH RISK for Alcohol Content for Video | Brand Safety | Integral Ad Science | Exclude | |
| HIGH or MODERATE RISK for Alcohol Content for Video | Brand Safety | Integral Ad Science | Exclude | |
| HIGH RISK for Illegal Download Content for Video | Brand Safety | Integral Ad Science | Exclude | |
| HIGH or MODERATE RISK for Illegal Download Content for Video | Brand Safety | Integral Ad Science | Exclude | |
| HIGH RISK for Drug Content for Video | Brand Safety | Integral Ad Science | Exclude | |
| HIGH or MODERATE RISK for Drug Content for Video | Brand Safety | Integral Ad Science | Exclude | |
| HIGH RISK for Hate Speech Content for Video | Brand Safety | Integral Ad Science | Exclude | |
| HIGH or MODERATE RISK for Hate Speech Content for Video | Brand Safety | Integral Ad Science | Exclude | |
| HIGH RISK for Offensive Language Content for Video | Brand Safety | Integral Ad Science | Exclude | |
| HIGH or MODERATE RISK for Offensive Language Content for Video | Brand Safety | Integral Ad Science | Exclude | |
| CANNOT RATE for Video | Brand Safety | Integral Ad Science | Exclude | |
| Apps with HIGH RISK for Adult Content | Brand Safety | Integral Ad Science | Exclude | |
| Apps with HIGH or MODERATE RISK for Adult Content | Brand Safety | Integral Ad Science | Exclude | |
| Apps with HIGH RISK for Alcohol Content | Brand Safety | Integral Ad Science | Exclude | |
| Apps with HIGH or MODERATE RISK for Alcohol Content | Brand Safety | Integral Ad Science | Exclude | |
| Apps with HIGH RISK for Illegal Download Content | Brand Safety | Integral Ad Science | Exclude | |
| Apps with HIGH or MODERATE RISK for Illegal Download Content | Brand Safety | Integral Ad Science | Exclude | |
| Apps with HIGH RISK for Drug Content | Brand Safety | Integral Ad Science | Exclude | |
| Apps with HIGH or MODERATE RISK for Drug Content | Brand Safety | Integral Ad Science | Exclude | |
| Apps with HIGH RISK for Gambling | Brand Safety | Integral Ad Science | Exclude | |
| Apps with HIGH or MODERATE RISK for Gambling | Brand Safety | Integral Ad Science | Exclude | |
| Apps with HIGH RISK for Offensive Language Content | Brand Safety | Integral Ad Science | Exclude | |
| Apps with HIGH or MODERATE RISK for Offensive Language Content | Brand Safety | Integral Ad Science | Exclude | |
| Apps with HIGH RISK for Violence | Brand Safety | Integral Ad Science | Exclude | |
| Apps with HIGH or MODERATE RISK for Violence | Brand Safety | Integral Ad Science | Exclude | |
| CANNOT RATE Apps | Brand Safety | Integral Ad Science | Exclude | |
| TOP 10% of impressions most likely to be viewed for the longest time | Viewability | Integral Ad Science | Include | |
| TOP 20% of impressions most likely to be viewed for the longest time | Viewability | Integral Ad Science | Include | |
| TOP 35% of impressions most likely to be viewed for the longest time | Viewability | Integral Ad Science | Include | |
| TOP 50% of impressions most likely to be viewed for the longest time | Viewability | Integral Ad Science | Include | |
| TOP 75% of impressions most likely to be viewed for the longest time | Viewability | Integral Ad Science | Include | |
| TOP 10% of impressions most likely to be viewed for the longest time (160x600) | Viewability | Integral Ad Science | Include | |
| TOP 20% of impressions most likely to be viewed for the longest time (160x600) | Viewability | Integral Ad Science | Include | |
| TOP 35% of impressions most likely to be viewed for the longest time (160x600) | Viewability | Integral Ad Science | Include | |
| TOP 50% of impressions most likely to be viewed for the longest time (160x600) | Viewability | Integral Ad Science | Include | |
| 75% of impressions most likely to be viewed for the longest time (160x600) | Viewability | Integral Ad Science | Include | |
| TOP 10% of impressions most likely to be viewed for the longest time (300x250) | Viewability | Integral Ad Science | Include | |
| TOP 20% of impressions most likely to be viewed for the longest time (300x250) | Viewability | Integral Ad Science | Include | |
| TOP 35% of impressions most likely to be viewed for the longest time (300x250) | Viewability | Integral Ad Science | Include | |
| TOP 50% of impressions most likely to be viewed for the longest time (300x250) | Viewability | Integral Ad Science | Include | |
| TOP 75% of impressions most likely to be viewed for the longest time (300x250) | Viewability | Integral Ad Science | Include | |
| TOP 10% of impressions most likely to be viewed for the longest time (728x90) | Viewability | Integral Ad Science | Include | |
| TOP 20% of impressions most likely to be viewed for the longest time (728x90) | Viewability | Integral Ad Science | Include | |
| TOP 35% of impressions most likely to be viewed for the longest time (728x90) | Viewability | Integral Ad Science | Include | |
| TOP 50% of impressions most likely to be viewed for the longest time (728x90) | Viewability | Integral Ad Science | Include | |
| TOP 75% of impressions most likely to be viewed for the longest time (728x90) | Viewability | Integral Ad Science | Include | |
| 40% of impressions are viewable per IAB standards | Viewability | Integral Ad Science | Include | |
| 50% of impressions are viewable per IAB standards | Viewability | Integral Ad Science | Include | |
| 60% of impressions are viewable per IAB standards | Viewability | Integral Ad Science | Include | |
| 70% of impressions are viewable per IAB standards | Viewability | Integral Ad Science | Include | |
| 80% of impressions are viewable per IAB standards | Viewability | Integral Ad Science | Include | |
---
---