ReklamStore SSP Referral Program

Invite your friends to ReklamStore SSP and earn extra with our referral program! It's a great way to make some extra cash without even trying. Refer publishers to ReklamStore SSP and as long as they keep using our platform, you'll earn 10% commission based on their income. Our referral program is another way that existing ReklamStore SSP publishers are able to boost their monthly revenue. If a publisher you refer joins ReklamStore SSP through the referral link you provided you'll start earning money based on their income.
There is no limit on how many referrals you can bring. Also no matter how much they earn, you'll still make money.
Your referral link will look like

https://my.reklamstore.com/Account/Signup2?referral=XXXXXXXX

It's so easy to join ReklamStore SSP referral program. Just share your referral link, accumulate signups and earn 10% commission based on how much they earn from ReklamStore SSP. Math is simple. If your referral makes $10k/month, you'll earn $1k/month!
How to Refer Publishers to ReklamStore SSP?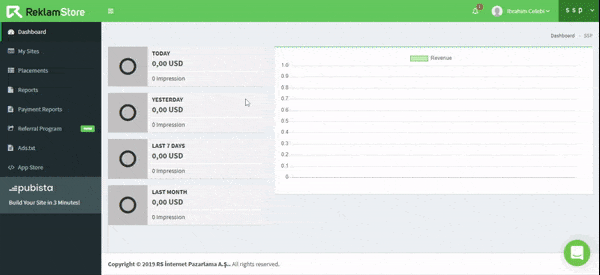 Click Referral Program from the menu.
Copy your Referral URL to share with others.
Distribute it all around the internet and start earning commissions.
To make your life easier while sharing your referral URL, we prepared several banners and placed them under Referral Program page. Copy the code below the banners, use it as the destination URL while placing these banners on your website.
Which Channels You Can Use While Referring?
Listed below are few strategies that can help you make money from ReklamStore SSP referral program. Of course, chances are unlimited, we just wanted to give you a couple of ideas.
Using Links: You can use your existing website and text link your referral link.
Banners: We created several banners for you, you can copy them and use on your site, as a link, you can use your referral link.
Blogs: Write an article about ReklamStore SSP and mention our referral program. You can use your referral link in it.
Word of Mouth: That's one of the most effective ways of referring to a product or service. Just mention our platform to your friends, family or associates and send them your referral link.
Social Media: Create a post and mention ReklamStore SSP and use your referral link in your post.
Comments: Share comments in online communities. Forums, groups, article discussions are great ways to share comments. Share your referral link with publishers who are looking for more monetization ways.
Video Tutorials: Create videos and share them on YouTube or other platforms. Mention ReklamStore SSP and share your referral link.
---
---