Domain / Placement Targeting

Are you looking for a way to optimize your campaign or reach more targeted audience? There are several ways to target users on ReklamStore DSP. You can reach a wide range of customers but using targeting options to increase your campaign performance doesn't hurt anyone. Because nobody wants to advertise their product or service on a completely unrelated website.

With domain & placement targeting options, you can select the domains, subdomains and the placements within specific pages that your ads should appear on. You can target specific domains & placements by creating a whitelist or exclude them via a blacklist. So if you run a business in the sports industry, you could include any domains related to jerseys, game tickets, basketball blogs, etc.
You can target multiple domains and sub-domains simultaneously. Once you have added a list in this section, your campaign will exclusively receive traffic from those sources. If you want to target or exclude the full domain including all sub-domains, you just need to input the root domain while creating your whitelist or blacklist (ie. www.example.com). To target or exclude only a specific sub-domain, only enter that specific sub-domain (ie. www.sub.example.com).

You can include or exclude domains & placements while creating a campaign or update your targeting options by editing your campaign.

You can also bid differently for each one of the domains on your list. To learn more about bidding, check this article.
Setting Up Domain / Placement Targeting
1) Create a domain list

Click Domain/IP lists from the menu then Create to start creating your domain & placement list.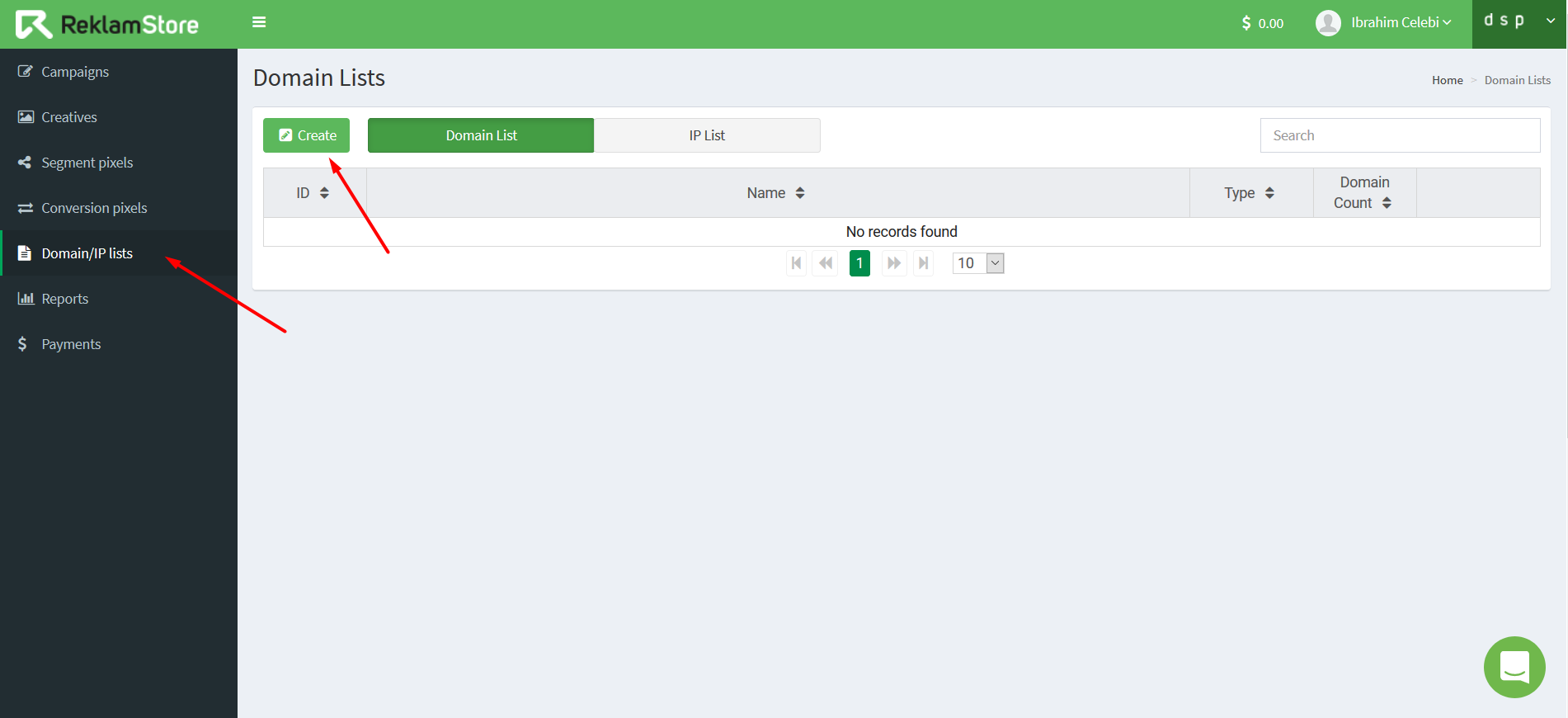 Once you are on Domain List Add page, name your list, choose List Type, and start adding the domains. Available formats are shown on the page as well.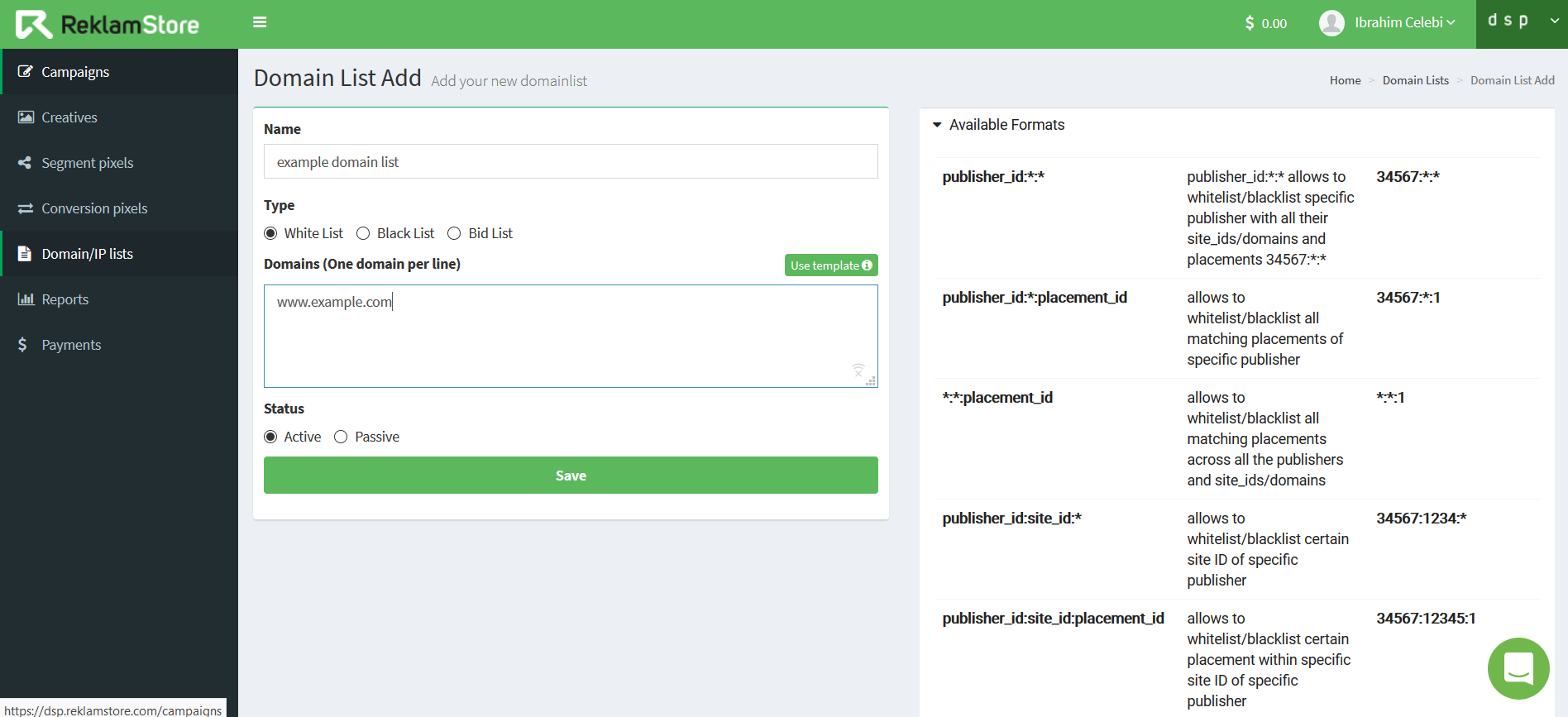 When you complete your list, click Save. It's ready. You can see your domain lists on this page. The number of domains on a list shown under Domain Count column. You can edit your list anytime as well.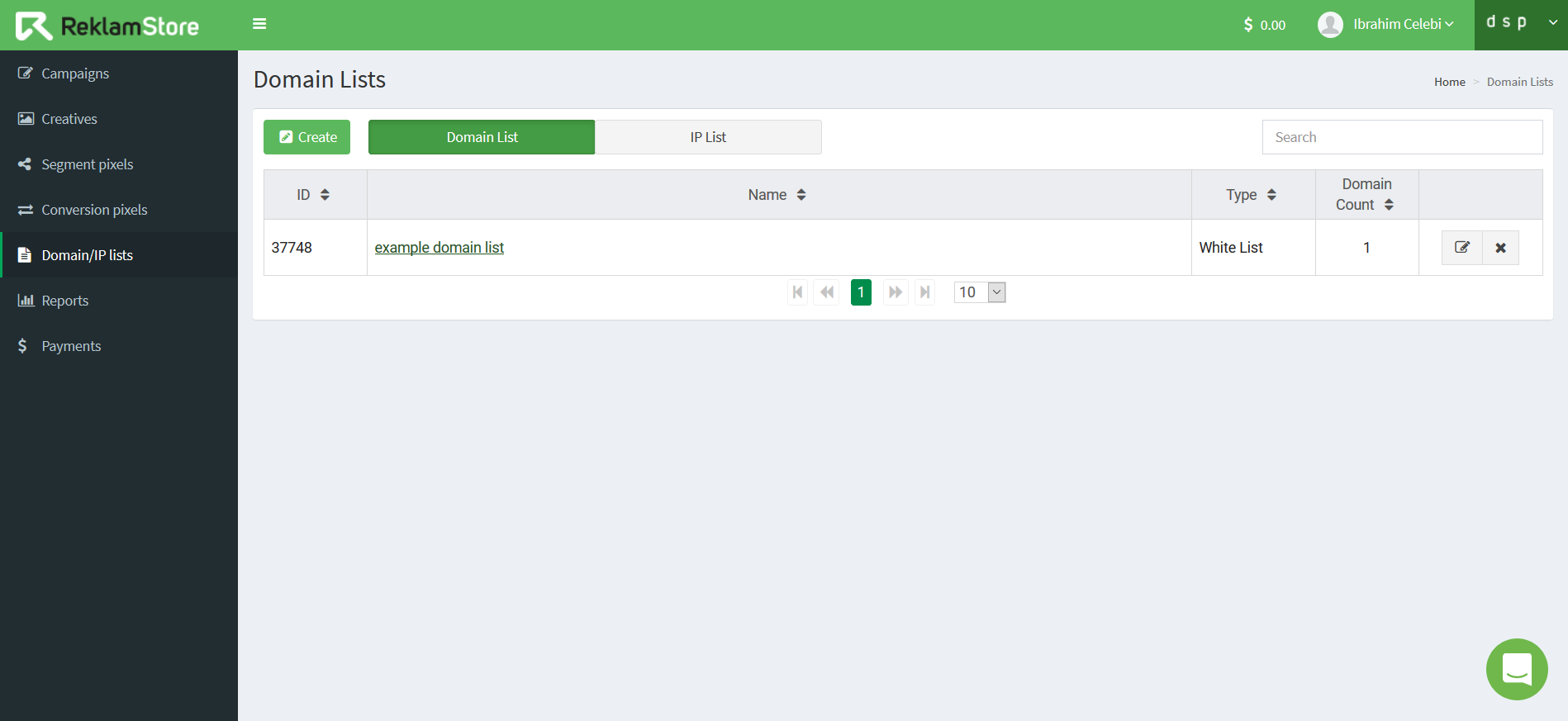 2) Start creating your campaign
Complete the general section as described in this article.
3) Include your domain list to the campaign
On campaign creation page, scroll down to see Domain/Placement Targeting , under targeting options. Click the radio button to activate domain & placement targeting and select what kind of a list you would like to add (whitelist or blacklist), choose the domain list you created before.

4) Activate the campaign
Click Save and by default, users will be targeted until you deactivate your campaign.


Available formats
On ReklamStore DSP, there are various options for domain & placement targeting. All you need to use the specific macros. You can see available formats while creating your whitelist/blacklist or check them from this article.

Domain list templates
To make it easier for you, we prepared templates of most visited webpages. You can select, edit and use the domain list templates prepared by countries and categories. To use domain templates, from Domain/IP lists menu click Create then, Use template buttons.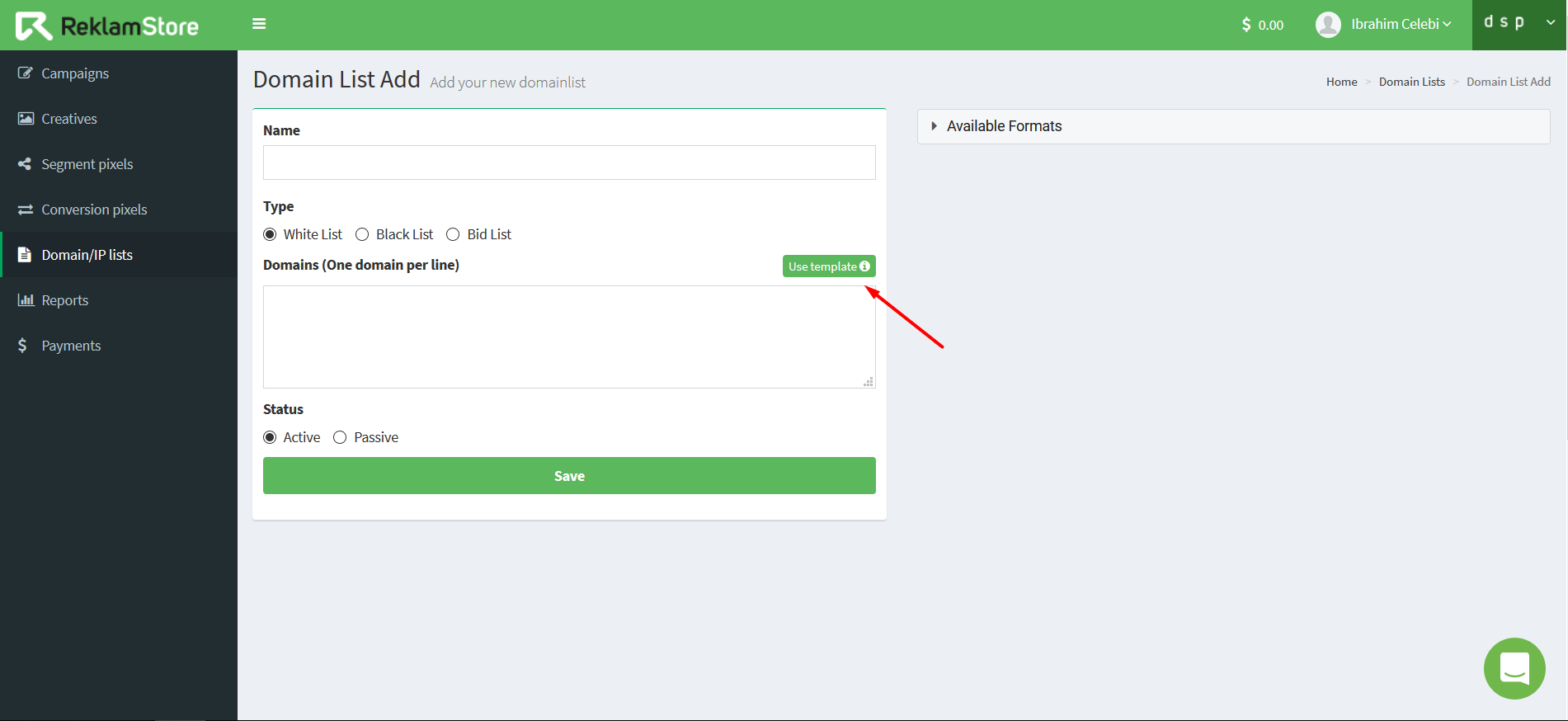 From there, you can reach Top Domains by Country and Top Domains by Category options. Your domains will be listed once you choose your country or category and then click Fill with selection.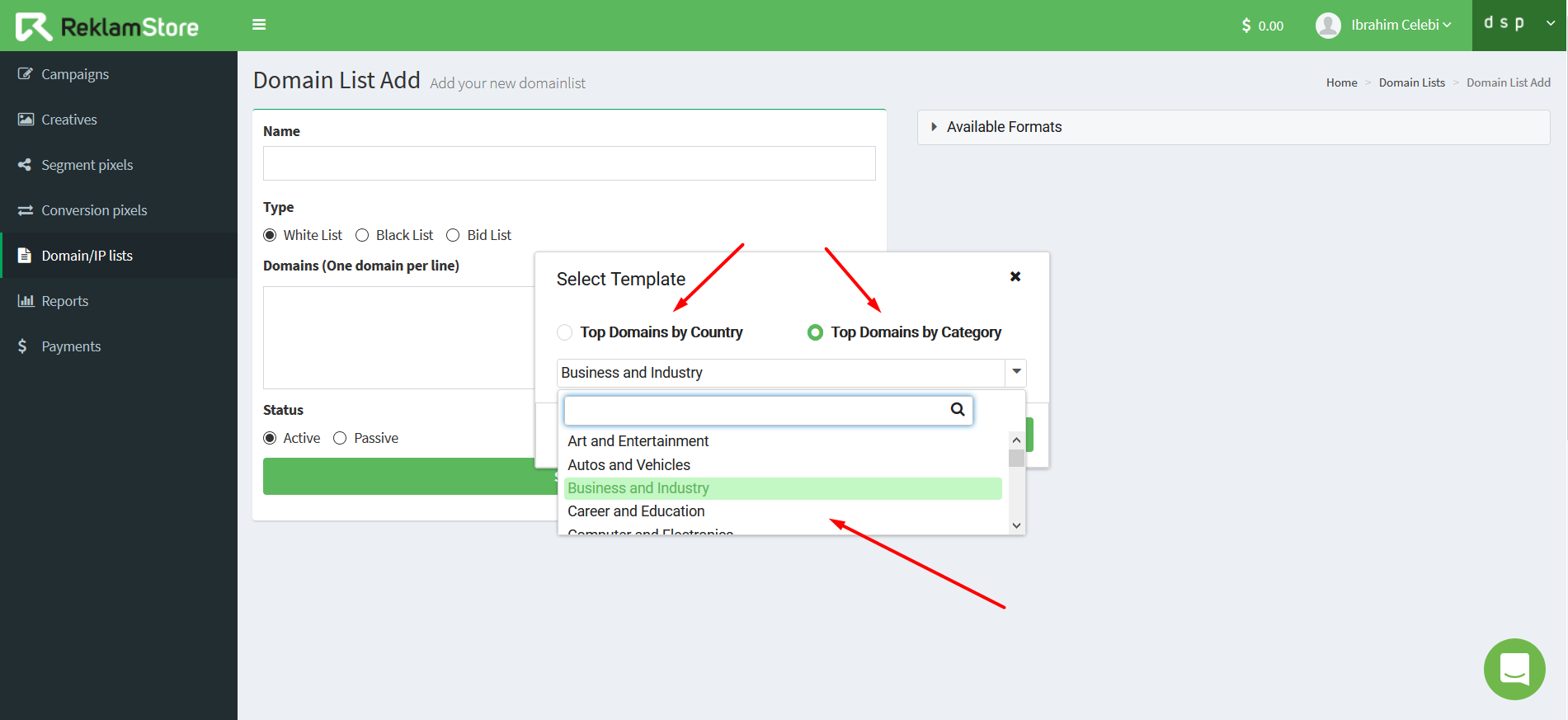 Single Source Targeting

You can create a whitelist/blacklist on Campaign Add / Update page as well. Select Enter domains/placements button under Targeting Options and type your domains or placements according to the format. Note that you can enter maximum 25 sources here.

---
---