Operating System Targeting

Targeting your campaigns to the right audience helps you to convert more. This article will review operating system targeting.
Targeting by operating system means, targeting users who are using specific operating systems. It also allows advertisers to target specific versions of each operating system. On ReklamStore DSP, advertisers have the possibility of choosing and targeting the operating system, users are able to decide the OS to deliver advertising campaigns and reach their specific target audience.

This type of targeting is useful when you're promoting a product or service that is relevant only for an operating system. Let's consider you would like to promote your mobile app which is not compatible with Android devices. You can use OS targeting to show your ads only to IOS users.
You can include or exclude operating systems while creating a campaign or update your targeting options by editing your campaign.
With ReklamStore DSP, you are able to deliver your ads only to specific operating systems including,
IOS

Android

Windows

OS X

Other

iOS 10
iOS 11
iOS 5
iOS 6
iOS 7
iOS 8
iOS 9

Android 2
Android 3
Android 4
Android 5
Android 6
Android 7
Android 8

Windows 10
Windows 2000
Windows 7
Windows 8
Windows 95
Windows 98
Windows Mobile
Windows NT
Windows Phone
Windows RT
Windows Vista
Windows XP
Windows Phone
Windows Phone 10
Windows Phone 7
Windows Phone 8

OS X 10.1
OS X 10.10
OS X 10.11
OS X 10.12
OS X 10.13
OS X 10.4
OS X 10.5
OS X 10.6
OS X 10.7
OS X 10.8
OS X 10.9
OS X 11.7
OS X 8.1
OS X 9.1
OS X 9.3

Chrome OS
Linux
Other
Setting Up Operating System Targeting
1) Start creating your campaign
Complete the general section as described in this article.
2) Include and exclude operating systems
On campaign creation page, scroll down to see Opeating System Targeting, under targeting options. Click Include or Exclude to include or exclude an operating system. Then click " + " button to add a browser to your include or exclude list or click " x " button to remove selected OS.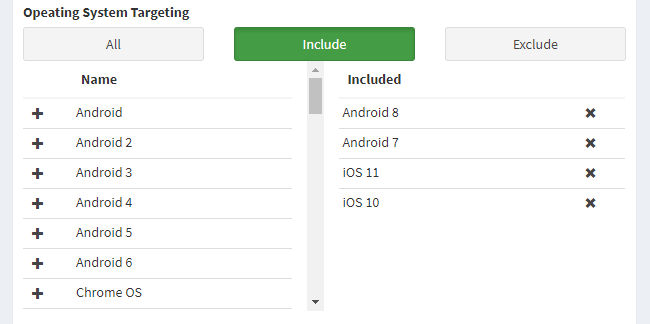 3) Activate the campaign

Click Save and by default, users will be targeted until you deactivate your campaign.
---
---