Integral Ad Science Ad Fraud Protection Services

Every day, there are many advancements in the digital advertising technology. But still, ad fraud is a big issue for digital marketers and publishers. With the right strategy and tools, advertisers can protect their ad campaigns from fraudsters and make sure their data is accurate.
Integral Ad Science is one of the major third party solution in brand safety and fraud protection market. They are analyzing the digital advertising placements known for addressing issues around fraud, viewability, brand risk and TRAQ, a proprietary media quality score.
The CEO of Integral Ad Science, Scott Knoll, described Integral Ad Science as:
Integral Ad Science is focused on making advertising better for both buyers and sellers. With every ad exposure you have three things that come together; the message, the person you're targeting, and the environment or the place in which they see it. We believe we're best in the world at that third bucket. We look at every ad placement out there, look at the environment, how consumers interact with these placements, and help both buyers and sellers make timely decisions and understand the media quality that they're about to purchase.
How to take advantage of Integral Ad Science's fraud protection services?
We integrated Integral Ad Science's fraud prevention solutions to our platform and you can start using them right away. While creating a campaign, if you click Custom button under Brand Protection options, you can start to include or exclude the traffic type you wished to have.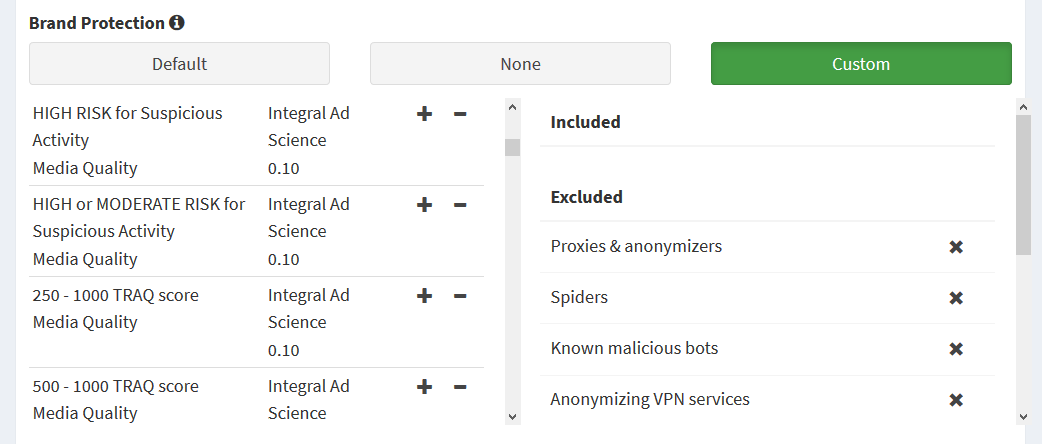 ReklamStore DSP is one of the leading demand side platform in the industry. We are constantly improving our media quality, disclosing our sources all the time and integrating third-party solutions to fight against fraudsters for our partners. Our policy against fraudilent sources is really strict and the moment we find out there is a suspicious activity, we are removing the source from our platform.
ReklamStore's Brand Safety feature is free to use but our fraud detecting partners are charging for their services. Price will be charged to your CPM cost.
---
---